Concerts & Lectures in the Reger Festival 150
(Concerts are free, open seating)
LECTURE REGISTRATION NOW OPEN      LUNCH SELECTION/REGISTRATION (REQUIRED)
---
FRIDAY, Nov 3 – 7:30 pm
Pre-concert talk: Christopher Anderson  6:45pm
All Saints Church, Worcester    SPECS
CAROLE TERRY in concert  BIO     CONCERT PGM(PDF) 
     works by: Brahms, Schumann, Rheinberger, Mendelssohn, and Reger
Our first recitalist, Carole Terry, will explore the German repertoire leading up to Max Reger in her Friday concert at All Saints Church.  The Skinner at All Saints gives a wealth of sound for this repertoire.  She begins her recital with Brahms and Schumann.  Then three chorale settings from Op. 67 of Reger followed by Rheinberger Sonata no. 4 in A minor.  After intermission she shares Mendelssohn's lively Sonata no. 4 in Bb Major ending her recital with two movements from Op. 69 and the Introduction and Passacaglia in D minor, WoO.  This program shows the influence of middle to late nineteenth century composers on Reger connecting him to the wider world of musical expression.  
---
SATURDAY, Nov 4
REGER LECTURES  Pakachoag Church, Auburn     SPECS
9 AM
Christopher Anderson      BIO      ANDERSON ACADEMIC DETAILS
 "… from his most conciliatory side …"
Some Remarks on Max Reger's Twelve Pieces op. 59
Reger's Twelve Pieces op. 59 was composed at a critical creative juncture in 1901 and has enjoyed a largely positive reception among organists from the beginning. Owing to its success, this work served the composer as a model for other such organ albums produced in years following, often as pendants to larger and more demanding concert pieces. Responding both to market demand and personal artistic impulses, Reger strove in op. 59 to clarify and simplify his musical language without compromising it. This lecture first contextualizes the Twelve Pieces against the background of Reger's production of keyboard albums generally. It moves then to examine some unique features of the collection's structure, particularly the much-performed Catholic Mass triptych of op. 59's second volume. 
11:00 AM
Carole Terry          BIO       PDF concert program (repertoire) 
This lecture will discuss:
Max Reger's Opus 67 Chorale Preludes: Compositional forms and liturgical use
"Zweiundfünfzig leicht ausführbare Vorspiele zu den gebräuchlichsten evangelischen Chorale"
Max Reger's Opus 67 is a collection of 52 settings of protestant hymns for organ composed between 1900 and 1902. In his complete title, Reger describes his pieces as "leicht" or "easy."  Reger was concerned that these pieces be accessible without too much technical difficulty for the average organist.  Though some are difficult to play, they represent and offer a window into Reger's compositional style in miniature which he used for many of his larger-scaled works.  These chorales can be divided into different types.   Some are figural chorale preludes where the accompaniment to the chorale is derived from the chorale itself, much like J. S. Bach, or newly composed.   Other compositional styles include canon, ornamented, and hybrid forms.
These pieces offer a wealth of music based on the liturgical year and Christian themes such as "Love of God," "Praise," "Death," and others.
12:45pm
(catered lunch, must reserve online – form: REGISTRATION )
Your sign up for the REGER Festival 150 will be acknowledged in 48-72 hours by Ronna Archbold Davis, Dean.  
 1:30 PM
Christopher Anderson
Ludus tonalis: Allusion in the Music of Max Reger
The role of musical borrowing in Reger's compositions remains one of the least studied aspects of his style. Yet Reger consistently drew on musical allusion, often in complex and multivalent ways that can inform the interpretation and reception of his work. This feature of his creativity, about which Reger himself remained largely silent, reveals the extent to which he both participated in and considerably intensified a lively culture of musical borrowing arising in the nineteenth century. Drawing on a range of examples, I explore here the composer's capacity to construct sophisticated allusions in his music, and I propose some possible motivations for his having pursued this mode of "playing with" (alludere) his musical heritage. 
---
SATURDAY, Nov 4 – 7:30 pm    SEE NOTE ABOUT PARKING – SCROLL DOWN
REGER WORKS FOR ORGAN & INSTRUMENTS
AGO members perform works of Reger on the Skinner pipe organ at Wesley UMC.
Complete performance of Zwölf Stücke für die Orgel, Opus 59 (1901)
Book One
Praeludium, no. 1
Pastorale, no. 2
Kevin Neel
Intermezzo, no. 3
Canon, no. 4
Stanley Hanson
Toccata in D minor, no. 5
Fuge in D minor, no. 6
Jonathan Bezdegian
*****
Romanze, WoO II/10
arr. trumpet and organ
Bruce Hopkins, trumpet; Kevin Neel, organ
Intermezzo no. 2, Op. 45
Kristjon Imperio, piano
Adagio from Violin Sonata no. 1, Op. 1
Arielle Cady Flores, violin; Kristjon Imperio, piano
*****
Book Two
Kyrie eleision, no. 7
Gloria in excelsis, no. 8
Michelle Graveline
Benedictus, no. 9
Capriccio, no. 10
Randy Steere
Melodia, no. 11
Te Deum, no. 12
Daniel Moriarty
Skinner/Aeolian-Skinner 1927/1955

Wesley United Methodist Church, Worcester     SPECS
Parking is allowed on the left side of Main Street (one way in front of the church) for this evening event.
Parking is available on Harvard Street behind the church, parallel to Main St. The church lot is accessible from State Street (between the Unitarian Church and Wesley).
---
SUNDAY, Nov 5 – 1:00 pm
HOOK ORGAN TOUR/DEMONSTRATION
Gather 12:45 at front door of 321 Main Street – first 24 people admitted
Note: Must be out by 2pm – subsequent rehearsal begins by another group
Host: Leonardo Ciampa, Artistic Director, Great Hall Concerts;
Chamber tour: Will Sherwood, Emeritus Principal Organist
Mechanics Hall, Worcester      SPECS
---
SUNDAY, Nov 5 – Concert 4:00 pm
PETER SYKES in concert      BIO         CONCERT PROGRAM
Closing Reception, following
First Baptist Church, Worcester      SPECS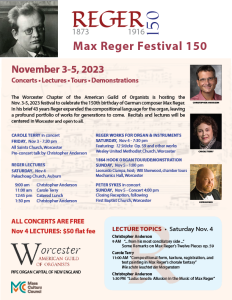 (Click for PDF)