PUBLICITY RESOURCES FOR REGER150
In the 1980s there were several billboards along I-290 boasting:
"Every great city should have one great university.
… Worcester has 10!" 
As Pipe Organ Capital of New England, Worcester is also proud to be the home of many fine pipe organs, thanks to the community's interest in the arts and music.
What could be better than having these world-class instruments showcased in a series of concerts this Fall!  Worcester is the only North American city to have a series of concerts to celebrate the 150th birthday of the famous German composer Max Reger (1873-1916) whose compositions included many fine works for the pipe organ.

Welcome to the Max Reger Festival 150!
---
The following categories of information will be posted in June 2023:
Interview contacts
Unique aspects of this festival
Example mini-articles to adapte
In-depth information about Max Reger
Performer bios
Images (performers, organs, Reger)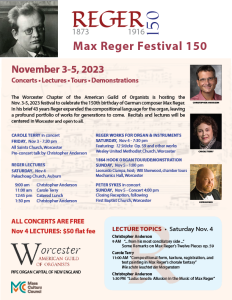 (Click for PDF)